LJ1E-1500-V160 Equivalent
Equivalent, replacement, alternative, analog, retrofit, analogue:
Litree LJ1E-1500-V160, LJ1E1500V160
General Information
TFSH25Q is manufactured as an equivalent, direct replacement, alternative, analog, retrofit and analogue to replace Litree MBR Membrane Module LJ1E-1500-V160 (LJ1E1500V160).
TFSH25Q hollow fiber MBR membrane have a great variety of potential combinations and are designed and manufactured for wastewater and sewage treatment plants. Consisting of a 0.02 micron PVDF Ultrafiltration membrane, provides excellent physical barrier to suspended solids, bacteria and other pathogens. The uniform pore size distribution ensures high permeability and sustainable operation.
The new generation of high flux TFSH25Q modules for MBR applications are upgrade-designed and improved, while continuing to leverage the aeration and header design.
TFSH25Q submerged hollow fiber membrane modules are providing economical, comprehensive wastewater and sewage solutions to industrial and municipal applications around the world.
Membrane Characteristics
High quality raw material

Reinforced membrane


High resistance to fouling

Direct and economical module replacement
Applications
Industrial wastewater

Municipal sewage

Domestic sewage

Submerged filtration

Pretreatment of industrial water
Module Specifications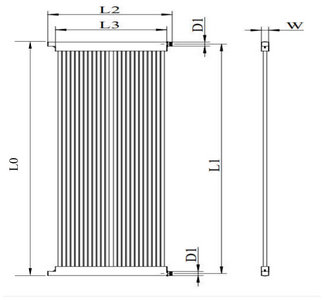 | | |
| --- | --- |
| Model | TFSH25Q |
| Membrane Surface Areas (m2/ft2) | 25/269.1 |
| Membrane Material | Reinforced PVDF (PET supporting layer) |
| Pore Size (μm) | 0.02 |
| ID/OD (mm/inch) | 1.0/2.2 (0.039/0.087) |
| L0 (mm/inch) | 1,622/63.86 |
| L1 (mm/inch) | 1,575/62.01 |
| L2 (mm/inch) | 721/28.39 |
| L3 (mm/inch) | 640/25.2 |
| W (mm/inch) | 70/2.75 |
| Filtrate Connector/D1 | DN32 Quick Connector* |
| Flow Direction | Outside-in |
| Flow Type | Negative Suction Pressure |
| Backwash Type | Air Water Backwash |
| Flux Design (LMH) | 10-30 |
| Module Weight (kg/lb) | 13/28.66 |
| Sealing Material | PU |
| Conduit Material | ABS |
| Operation Flux (L/H) | 285-865 |
| Max TMP (Mpa/psi) | -0.06/-8.7 |
| Operating Temperature (℃/°F) | 5-45/41-113 |
| Max Temperature (℃/°F) | 45/113 |
| Recommended pH Range | 1-12 |
| Max Active Chlorine (ppm) | 1,000 |
Contact Us
Name: International Sales Dept.

Tel: +86-27-8673 0002

Fax: +86-27-8732 0476

E-mail: [email protected]

Add: 4th Floor, Baofeng Ages, 1045 Jiefang Blvd, Qiaokou District, Wuhan, Hubei Province, 430030, China